VPNs (Virtual Private Networks) safeguard internet connection and privacy. What is VPN? A VPN is one of the best tools to establish a secure connection and ensure sensitive data is safely transferred. VPNs hide IP addresses and locations so users aren't monitored. These networks add encryption to the data that passes to the internet. VPNs are also used to bypass entertainment websites that are not accessible in some regions.
People that work remotely need a VPN to improve the privacy and security of information. Software developers can benefit from using VPNs, especially to prevent hackers from stealing private information and accessing login details. But what are the best VPNs for software developers?
Listed below are the best VPNs for software developers.
NordVPN (Best Overall)
ExpressVPN
Surfshark
ProtonVPN
IPVanish
CyberGhost
TorGuard
PureVPN
AtlasVPN
Norton VPN
1. NordVPN
NordVPN allows users to browse the internet with utmost privacy and security. One of the key features of NordVPN is the ultra-fast and stable speed. Another feature is the automatic kill switch, an advanced precaution that prevents any vulnerable data from circulating the web. With the 24/7 customer service, users are assisted regarding general concerns like payments and troubleshooting. NordVPN has 5,579 servers across 59 countries. NordVPN charges $5.59 per month for the first two years for the complete package. For Mac, Windows, Android, Linux and iOS, NordVPN offers a premium design. Most VPNs cannot secure six devices at once, but NordVPN handles the work efficiently. One downside of NordVPN is that the VPN is costly. To make the best choice, check the complete NordVPN review.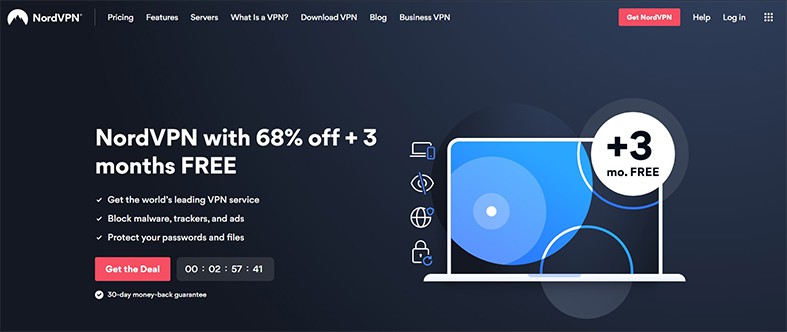 2. ExpressVPN
ExpressVPN is a highly secure VPN that is designed with advanced features that give the user freedom to stream or download without restrictions. ExpressVPN's key features include split-tunneling, which allows users to choose what traffic goes directly to the internet and what traffic goes to the VPN. Another feature is the network lock, which automatically blocks all online activity when the VPN connection is lost, to secure the user's IP address. ExpressVPN uses AES (Advanced Encryption Standard) with 256-bit keys for data encryption. This VPN has servers in 94 countries, so users can select a server with the highest speed. ExpressVPN is best for users looking for leak-free protection, and those that use torrent applications. The downsides of ExpressVPN are not having static IP addresses and connecting only to 5 devices at a time. ExpressVPN's most popular plan charges $8.32 per month, costing $99.95 a year. Read the ExpressVPN review for more information.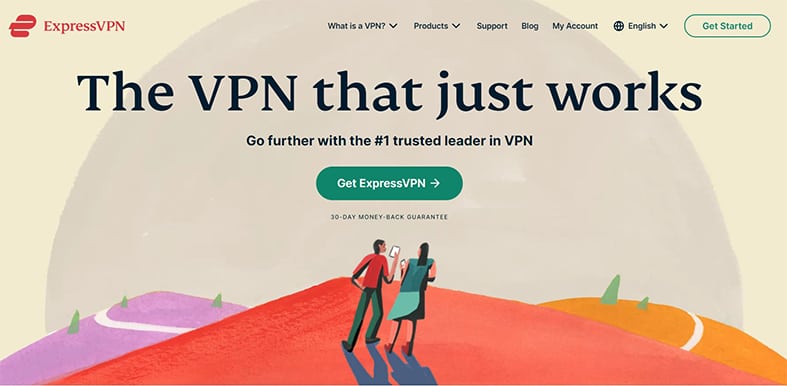 3. Surfshark
Surfshark offers some brilliant features like smart DNS, GPS spoofing, split tunneling, IKEv2 support and WireGuard protocol that completely offers cybersecurity to protect users. The MultiHop feature re-routes traffic through two servers, providing better security. But there might be some lagging speeds due to traffic traveling a much longer distance. Surfshark brings out new features and updates like the graphical interface for Linux. Surfshark uses RAM-only servers and military-grade AES-256 encryption that does not store any personal online information. The VPN provides CleanWeb, a feature that blocks potential adware and malware. Surfshark is one of the most affordable VPNs available, giving the user great value for money. With a competitive price starting from $2.49 per month for a two-year plan and $3.99 for a one-year plan, Surfshark makes a great deal for different users. The VPN has over 3,200 servers across 99 different countries. Cons of Surfshark are not having another option for short-term pricing aside from the one-month plan and a customer service that needs improvement. The Surfshark review has everything users need to know before buying.
| One-Year Plan | Two-Year Plan |
| --- | --- |
| $3.99 per month | $2.49 per month |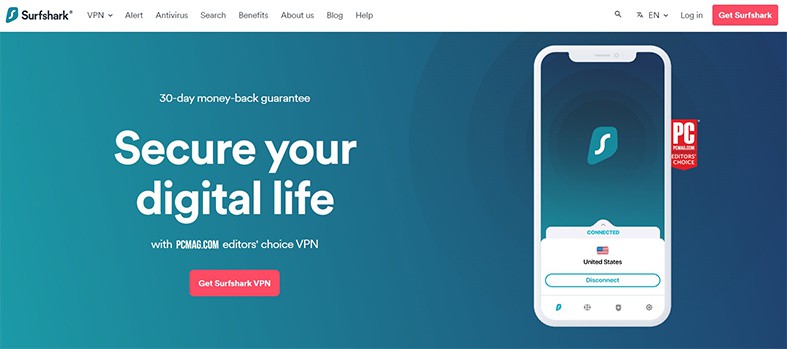 4. ProtonVPN

ProtonVPN provides reliable and fast access that provides users the best safety and security features, guaranteeing anonymity online. Other key features of ProtonVPN include up to 10 Gbps speed servers and a strict no-log policy. ProtonVPN offers a free version, open-source applications and improved Mac version features. The VPN currently has over 1,746 servers in 64 countries, providing the users high-speed bandwidth without compromising cybersecurity. ProtonVPN also offers high-end security features, such as perfect forward secrecy and Secure Core, that prevent hackers from spying on the user's online activities. The Secure Core network provides an extra layer of security against advanced cyberattacks since servers are located 1,000 meters below a former Swiss army fallout shelter. Thus, even when the VPN server is cut off, the extra encryption keeps the user's information in safe conditions. ProtonVPN offers unique plans for every user's needs. Pricing starts from $4.99 per month in the two-year plan and goes to $9.99 in the one-month plan. There are several free servers within three continents.. Downsides of ProtonVPN are an inefficient customer support response and being prone to VPN blocks. This ProtonVPN review analyzes every feature of this VPN.
| One-Month Plan | Two-Year Plan |
| --- | --- |
| $9.99 | $4.99 per month |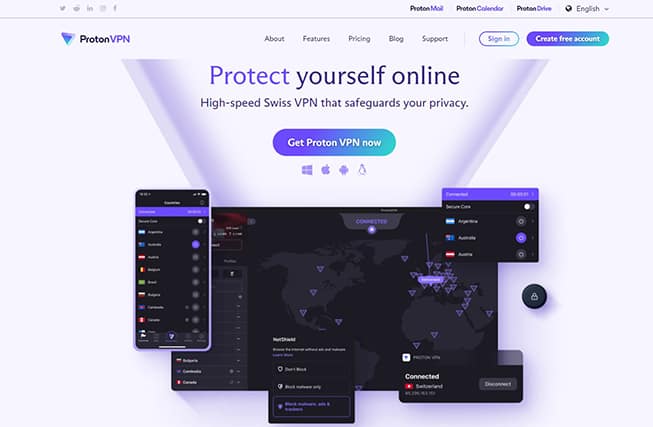 5. IPVanish
IPVanish offers unlimited simultaneous connections with a great download speed. The VPN works on every major operating system, such as macOS, Android, Windows and Linux. IPVanish is best for users that look for VPN protocols such as OpenVPN, IKEv2 and L2TP/IPsec to protect several devices and transfer huge amounts of data. Accessing geo-restricted content and P2P servers is possible when using IPVanish. The VPN service has over 2,000 servers in over 75 locations worldwide. Some downsides of IPVanish are inefficient customer support and slower performance on Windows. IPVanish costs $10.99 for the monthly plan and $3.33 per month for the one-year plan. Users can learn more with this IPVanish review.
| One-Month Plan | One-Year Plan |
| --- | --- |
| $10.99 | $3.33 per month |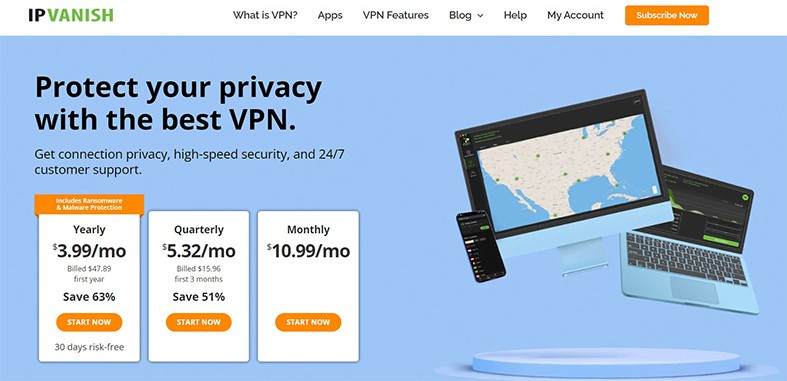 6. CyberGhost
CyberGhost is a popular VPN service that provides an extensive network and strong encryption. Users can have access to region-locked content and torrenting apps. Other key features include DNS and IP Leak Protection, unlimited bandwidth and Malware block. A VPN-powered IT address that secures online activities and prevents monitoring replaces the user's IP address. CyberGhost's servers are designed for most devices like iOS, Android and desktops and can serve up to seven devices. CyberGhost is preferable for users that are looking for a VPN with a dedicated IP address and antivirus software coming from the same company. One downside of using CyberGhost is that this VPN is not as quick as other VPNs and can be pricey if users don't have a long-term plan. With over 7,000 VPN servers in over 90 countries, users can have fast speeds. Pricing starts from $12.99 for the monthly plan and $4.29 per month for the yearly plan. Users can see all the features of this VPN in this CyberGhost review.
| One-Month Plan | One-Year Plan |
| --- | --- |
| $12.99 | $4.29 per month |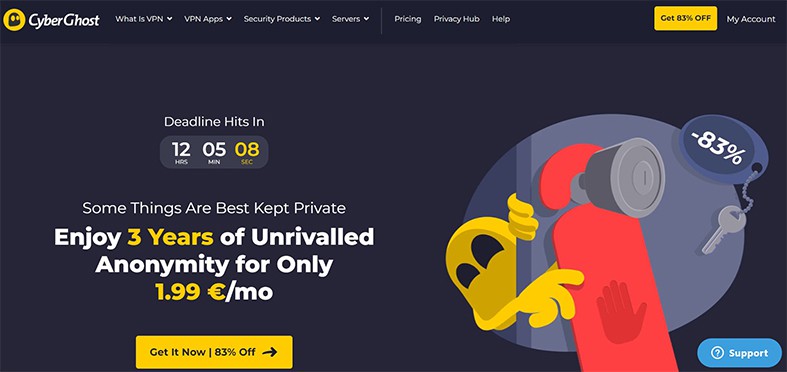 7. TorGuard
TorGuard VPN provides powerful and high-quality protection that covers large network servers with security features, encryption and more. TorGuard's best features include a built-in ad blocker, eight simultaneous connections with numerous servers across the world, P2P support, a strict no-log policy and responsive customer service. This VPN also offers the WireGuard tunneling protocol, a stealth proxy, IPv6 leak prevention and even Bitcoin support. As the name suggests, TorGuard is best for torrenting. Users looking for strong security features and pertinent use of torrenting apps are in good hands when using TorGuard. Downsides of TorGuard include a less user-friendly interface, below-average connection speeds and vague privacy policies. TorGuard has over 3,000 servers in 50 countries. TorGuard costs around $9.99 per month on the standard monthly package and $59.99 on the one-year standard package. Check this detailed TorGuard review.
| One-Month Standard Package | One-Year Standard Package |
| --- | --- |
| $9.99 | $59.99 |
8. PureVPN

PureVPN offers unrestricted and secure internet browsing and excellent torrenting and streaming features. PureVPN has over 6,500 servers in over 78 countries. Like other VPNs, PureVPN has a kill-switch, split tunneling and AES-256 encryption. This VPN also supports port-forwarding and has no DNS leaks. Setbacks of PureVPN are that some features don't function with WireGuard and connectivity issues. PureVPN costs around $10.95 for the monthly plan, while the yearly plan brings the price down to $3.24 per month. This PureVPN review provides complete information on this VPN.
| One-Month Plan | One-Year Plan |
| --- | --- |
| $10.95 | $3.24 per month |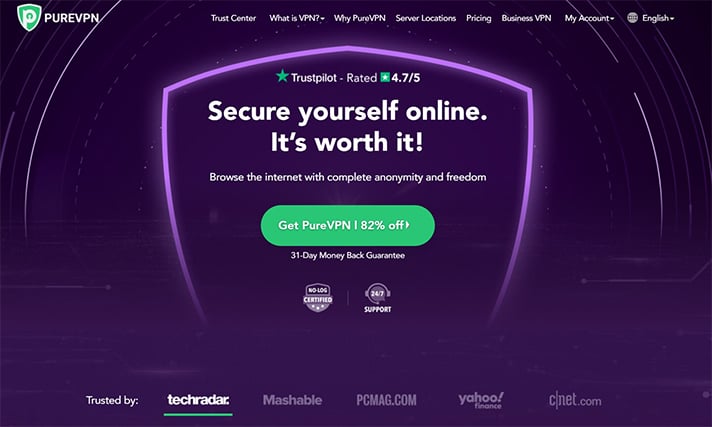 9. AtlasVPN

AtlasVPN provides an affordable and straightforward way of securing information privacy while using the web. The VPN service is great for beginners, having a user-friendly approach and a free version available. AtlasVPN has over 750 servers in 44 places. The best features include a built-in two-factor authorization login and unblocking of most streaming services. An excellent option when using AtlasVPN is the SafeBrowse. This feature blocks malware that might damage the device. Atlas VPN costs $10.99 for the first month and, with the yearly plan, users pay about $3.29 per month. To do a complete Atlas VPN review, one dilemma of using AtlasVPN is the small server infrastructure.
| One-Month Plan | One-Year Plan |
| --- | --- |
| $10.99 | $3.29 per month |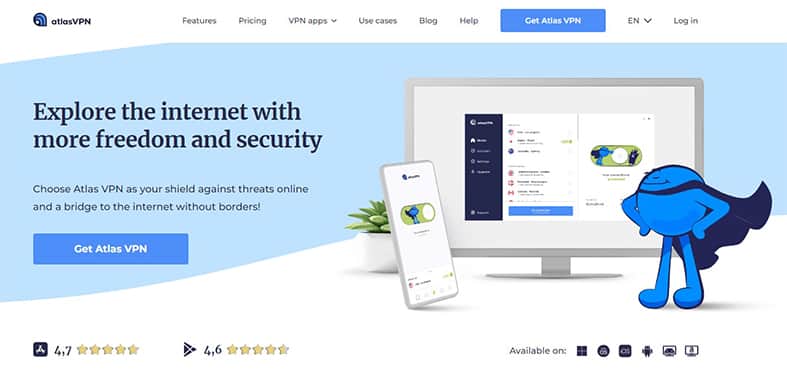 10. Norton VPN

Norton is a familiar name in antivirus protection. But Norton also provides a fast and secure VPN that effectively protects the user's online presence. Norton VPN uses military-grade security features to ensure top-tier protection. The VPN includes split-tunneling, 256-bit AES encryption and a kill-switch feature. Norton VPN is fast, secure and easy to use. A Norton VPN review shows that the VPN doesn't allow P2P traffic, DNS, IPv6 leak protection and WebRTC. Norton VPN has many servers available and allows one to 10 simultaneous connections. Pricing depends on the number of devices that use the service. Plans start at $4.99 for one device for a monthly plan. For a yearly plan, the cost is $29.99.
| One-Month Plan | One-Year Plan |
| --- | --- |
| $4.99 | $29.99 |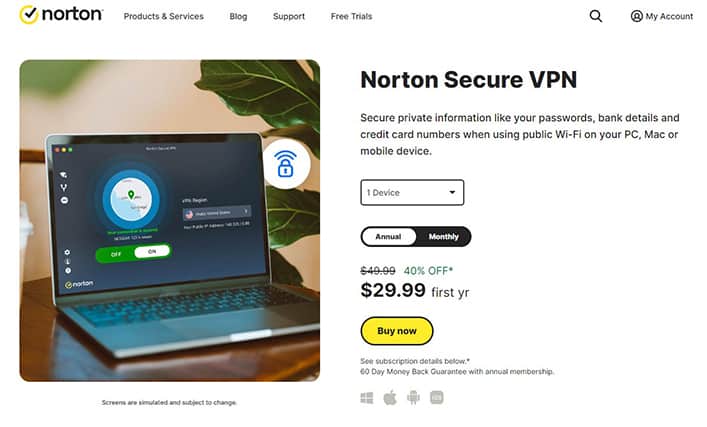 What Is a VPN?
A
Virtual Private Network creates a private connection that hides the user's web activities. A VPN is one of the most useful tools to ensure cybersecurity and privacy for users that are internet conscious.
VPN
services offer privacy and secure encrypted connections so that online activities are untraceable. VPNs reroute all online traffic along with locations, links and downloaded files to ensure anonymous browsing. Usage of VPNs allows the users to bypass restrictions on websites or streaming services. VPNs protect users from untrustworthy Wi-Fi hotspots, and avoid that users are monitored while torrenting.
What Is a Software Developer?
Software developers are experts that are mainly responsible for designing, creating and developing computer programs. Software developers' primary duties include writing code and creating online systems and applications. Developers must check the performance and quality of a program to ensure that the program is working. Being a software developer requires a lot of analytical thinking, observation and patience, as well as having knowledge and proficiency in one or more programming languages, which is an essential requirement for the role. By using this skill, a software developer can offer top-notch digital services and help businesses thrive.
Why Software Developers Need a VPN?
Software developers have distinct formats of work that result in creating a trademark. Most works of software developers have intellectual property, which must be protected from unauthorized people. A VPN encrypts all data from the computer, which protects the software developer from potential hackers and malicious intent. Developers ensure that applications or programs are accessible to every country, but because of restrictions and travel costs, this can be a hassle. With the use of high-quality VPNs, software developers have an easy way to get over inconveniences.
What Is the Benefit for Software Developers in Using a VPN?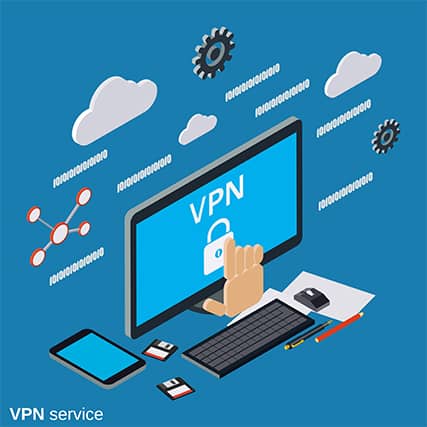 VPNs provide double-enhanced security that assists software developers in their day-to-day tasks. Cybercriminals continuously plan new strategies for stealing discreet information, so software developers are at risk. Along with the location being hidden, the whole internet activity is encrypted for additional security. A high-end VPN may enhance the efficiency and bandwidth of the network, providing more systematic and cost-effective work for the software developer.
Is a VPN Required for Software Development?
Yes. Software development follows a systematic approach to producing high-quality products or results. Various sensitive information is made using personal data and ideas. Having this information stolen, leaked or damaged affects the integrity of the outcome. This is why VPNs must be used in software development.