S
take launched in 2017 as an online gambling platform that supports the use of cryptocurrencies. Presently, Stake accepts about eight different cryptocurrencies, including Bitcoin, Ethereum, Dogecoin, Litecoin, Ripple, Bitcoin Cash, TRON and EOS. There are over 2,000 games available to play on Stake. Unfortunately, Stake is blocked from players in several countries due to gambling laws and regulations. But thanks to VPNs (virtual private networks), that is now a thing of the past. VPNs have been useful in bypassing any government restriction on Stake.
VPNs are used to play Stake by assigning an IP address to the player via a server from a Stake-supported country. Using a VPN grants benefits such as fast speeds, unblocking international content and bypassing restrictions, and complete anonymity while surfing the web. VPNs all have different safety features that help keep users' information safe and secure. For example, AES 256-bit encryption technology is the most prominent and sophisticated safety feature of any VPN. The major function of a VPN is to encrypt a user's web traffic to prevent monitoring or tracking by third parties like hackers, surveillance agencies, advertisers and internet service providers. While gambling, using a VPN is essential for masking the user's IP address so that the originating location and data can be secured from cyber threats. At the same time, the user can enjoy the added benefit of unblocking georestrictions.
The best VPNs for playing Stake in 2023 are given below.
NordVPN
PrivateVPN
VyprVPN
IPVanish
ExpressVPN
PureVPN
1. NordVPN
NordVPN is among the leading VPNs suitable for seamlessly playing Stake. With over 5,300 servers across 60 countries, NordVPN provides all the tools a player needs to access Stake from a restricted country. The unique features of NordVPN include access to a dedicated IP address, unlimited bandwidth, a no-log policy, very fast speeds, RAM-only servers, a seven-day free trial and multiple security protocols to select from.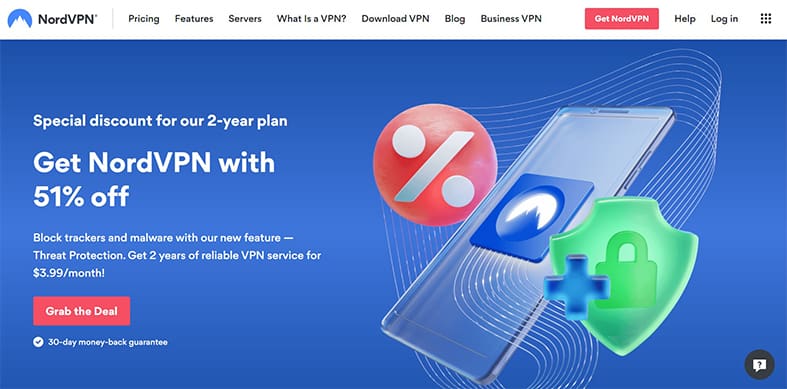 Security Gladiators' separate NordVPN review has revealed the special NordLynx tunneling protocol as the strong side of this VPN. This feature ensures a player's information will never leak. NordVPN has grown to offer several advantages to users. Within 30 days of subscribing to any plan, a user can choose to cancel and get a full refund. Users can anonymously subscribe using cryptocurrencies such as Bitcoin and Ethereum. From a single account, up to six simultaneous connections can be created. The no-logs policy is also strictly adhered to, according to evidence from two recent independent audits.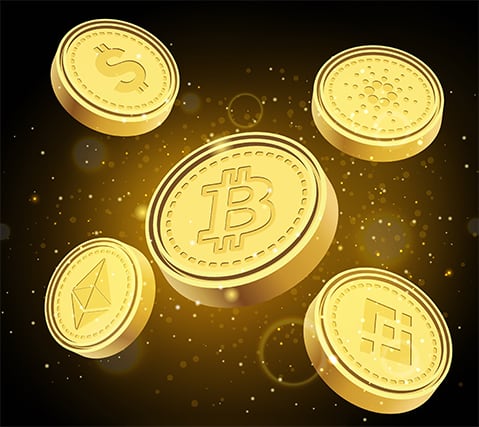 However, the disadvantages of using NordVPN include the limitation of the seven-day free trial to only mobile devices and the increase in the subscription fee after the first year.
The current prices of NordVPN are $11.99 for the one-month plan, $4.99 per month for the one-year option (or $59.88 for the first year) and $3.99 per month for the two-year plan (or $95.76 for the first two years). NordVPN's security features include 256-bit AES encryption technology, OpenVPN UDP and TCP, IKEv2/IPSec and multi-factor authentication. Generally, NordVPN works by providing complete anonymity through traffic tunneling, encryption and data privacy protocols.
The VPN works as an app on mobile devices (iOS and Android), computers (Windows, macOS and Linux), and as a browser add-on for Chrome, Firefox and Edge.
NordVPN's parent company is Nord Security.
---
2. PrivateVPN
When considering lightning-fast speed and cheap subscriptions, PrivateVPN easily comes to mind. PrivateVPN has a smaller server network than competitors, with just 200 servers across 63 countries, but there are still over 7,000 unique IP addresses for users to select from. PrivateVPN is useful for unblocking georestricted content across all gaming and streaming platforms. The prominent features of PrivateVPN are unlimited bandwidth, multiple security protocols, a kill switch, port forwarding, P2P sharing and a no-log policy. One of the strong sides of PrivateVPN lies in the huge discounts offered on the three-year subscription.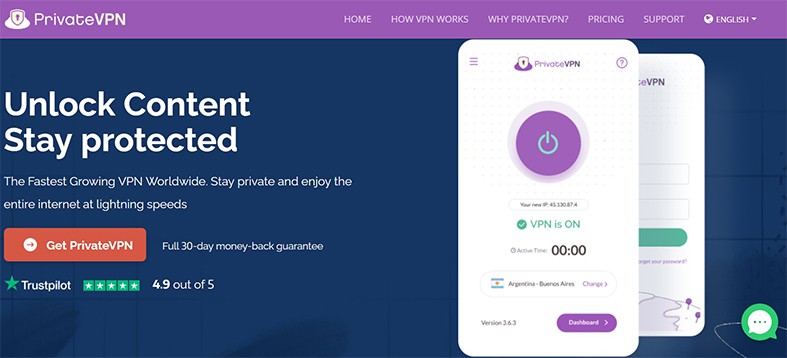 Following a comprehensive PrivateVPN review, the advantages discovered include access to six simultaneous connections, unlimited bandwidth for buffer-free streaming and a smooth gaming experience, a seven-day free trial, a 30-day money-back guarantee and strong encryption technology. Conversely, the disadvantages of PrivateVPN range from the absence of smart DNS privacy, the absence of browser add-ons and the absence of the WireGuard protocol, which offers the most advanced security and fastest speed.
The security features of PrivateVPN are 2048-bit AES encryption, OpenVPN UDP/TCP, IPSec and IKEv2 protocols. PrivateVPN costs $8.99 monthly, $6 per month for three months (or $17.99 billed at one time) and $2 per month for three years (or $72 total). PrivateVPN works by combining supercharged and streaming-dedicated servers, the ability to unblock content, and strong encryption and privacy tools for data security.
PrivateVPN Global AB is the company that owns PrivateVPN.
---
3. VyprVPN
This VPN is a newcomer on the market, but the product's popularity is quickly growing. VyprVPN has about 700 ultra-fast servers across 70 locations worldwide, with over 300,000 unique IP addresses on offer.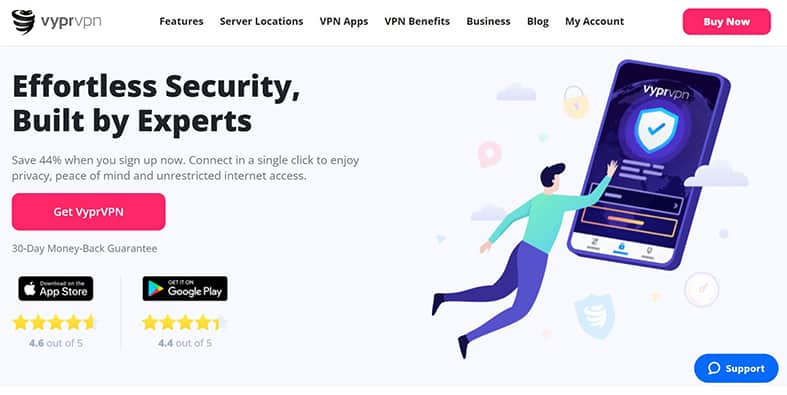 As covered in the full VyprVPN review, this VPN is useful for torrenting, streaming and online gaming without compromising the user's privacy and identity. Some of the unique features of VyprVPN include dynamic server switching, a kill switch and the Chameleon protocol that helps users bypass censorship restrictions. The aforementioned Chameleon protocol is a strong selling point that makes VyprVPN stand out among competitors.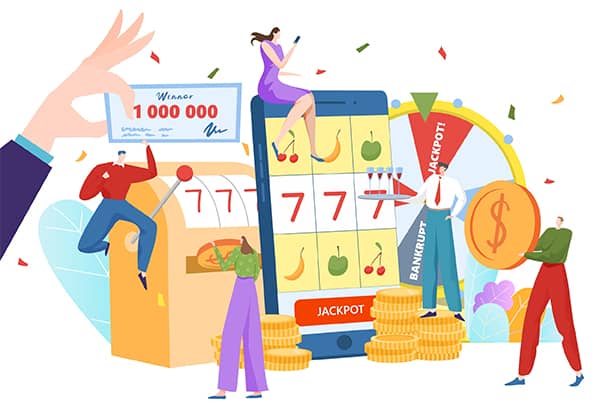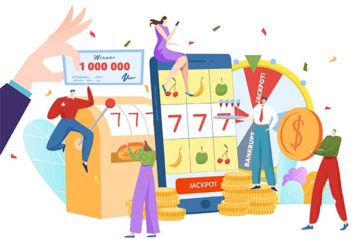 There are some notable advantages of using VyprVPN, even though the VPN is not the most popular. An extra safety measure is put in place to tackle IP leakage via a NAT firewall. There is room for up to five simultaneous connections using a single paid account login. VyprVPN shows the company is committed to the no-log policy by carrying out regular independent audits. However, there are still some disadvantages associated with VyprVPN. Reports have noted that the VPN takes a long time to connect and get started. Compatibility with Linux and iOS is also limited as some functions are unavailable.
Currently, VyprVPN costs $15 for one month or $8.33 for one year (or $100 billed at one time). The security features include 256-bit AES encryption technology, DNS privacy and several security protocols.
VyprVPN is owned by Golden Frog.
---
4. IPVanish
As one of the best VPNs for playing Stake, IPVanish is a robust VPN with attractive features. IPVanish boasts of over 2,000 servers across 75 locations, with more than 40,000 IP addresses. IPVanish is useful for streaming and playing georestricted games, as well as torrenting. The unique features of IPVanish are the kill switch, DDoS protection, DNS leak protection, a no-logs policy and unlimited bandwidth for establishing a connection. The presence of a SOCKS5 proxy remains one of the strong sides of this VPN service.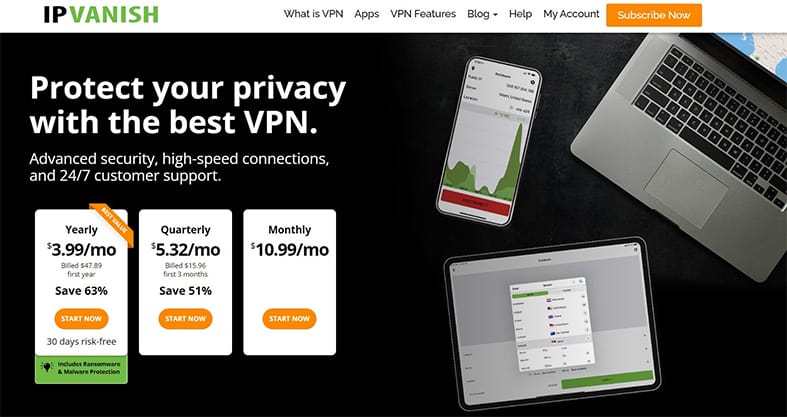 There are also several advantages that users stand to gain from using IPVanish. The presence of the SOCKS5 proxy guarantees the best speed and security without any need for special encryption. IPVanish is flexible enough to allow users to select which apps to be protected by the VPN. Up to 10 simultaneous connections can be made across different devices from one paid account. IPVanish boasts of the WireGuard protocol, the most advanced in tunneling web traffic for security. Despite these advantages, a closer IPVanish review has revealed some drawbacks. Firstly, the subscription rises significantly after the first year. Secondly, there is no app available for the Linux operating system.
The security features of IPVanish revolve around encryption technology, security protocols, and DDoS and DNS leak protection. The encryption technology is the popular AES 256-bit, while the protocols are WireGuard, IKEv2, L2TP and IPSec. With the current discounts on offer, IPVanish costs $10.99 monthly, $5.32 per month (or $15.96 total) for the quarterly plan, or $3.99 per month for the annual plan (or $47.89 for the first year). This VPN works by hiding a user's original IP address to prevent tracking or monitoring while accessing georestricted content on sites like Stake. IPVanish works both on mobile and desktop platforms, including Windows, macOS, iOS, Android and Linux. Ziff Davis has owned IPVanish since 2019.
---
5. ExpressVPN
ExpressVPN is prominent for its fast speed and high ping rate. These two qualities are very key to enjoying buffer-free online gaming. ExpressVPN has over 3,000 servers spanning 94 countries across all continents. Unique features such as split tunneling, DDoS protection, network lock, IP leak protection and DNS leak protection are all included with ExpressVPN.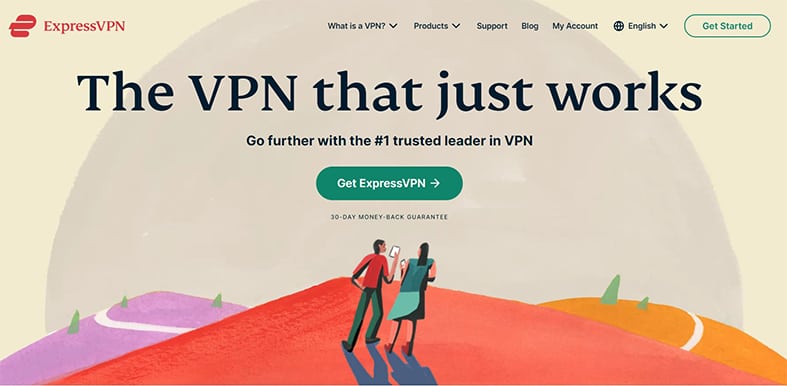 Security Gladiators' separate ExpressVPN review identified a strong selling point in the VPN's "Lightway" security protocol, which delivers exceptional download/upload speeds.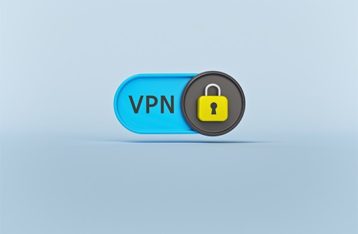 ExpressVPN offers many advantages that Stake players can benefit from, such as high speeds and top-notch security because of the specially created Lightway protocol. Up to five simultaneous connections can be made with a single account. The network lock feature is on standby to prevent IP leakage when any abrupt disconnection occurs. The no-log policy is also upheld firmly, with evidence from several independent audits. Despite these sterling benefits, there are some downsides to ExpressVPN. The VPN is very expensive, almost double the price of the product's counterparts. Also, there is no provision for a dedicated IP address, despite the high subscription cost.
ExpressVPN works by providing users access to fast servers with optimal security features for playing Stake. The subscription plan costs $12.95 monthly, $9.99 per month for six months and $8.32 per month for a year. AES encryption, the Lightway protocol, and DDoS and DNS leak protection are the core security features of ExpressVPN. This VPN works on both computer and mobile platforms, including Windows, macOS, Linux, Android and iOS, and as an add-on to browsers like Firefox, Edge and Chrome. Kape Technologies currently owns ExpressVPN.
---
6. PureVPN
PureVPN is one of the best and cheapest VPNs for playing Stake, with over 6,500 servers across 78 countries. Streaming movies, torrenting and playing online games are the core uses of PureVPN. PureVPN has unique features such as multiple security protocols, a kill switch, a no-log policy, split tunneling and DNS protection.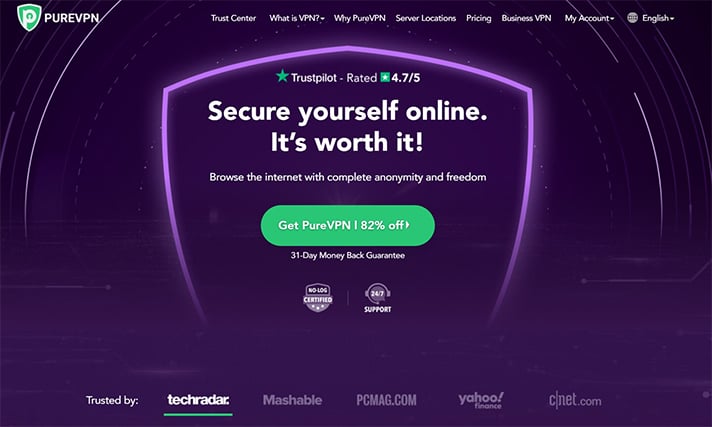 As covered in the full PureVPN review, the advantages of using this VPN are the fast speeds for streaming, availability of P2P protection for sharing files, provision of dedicated servers, up to 10 simultaneous connections, and the very cheap 12- and 24-month subscription prices. Nonetheless, there are still some disadvantages, such as difficulty connecting to some servers and the risk of privacy breaches as the VPN keeps some logs despite the no-log policy.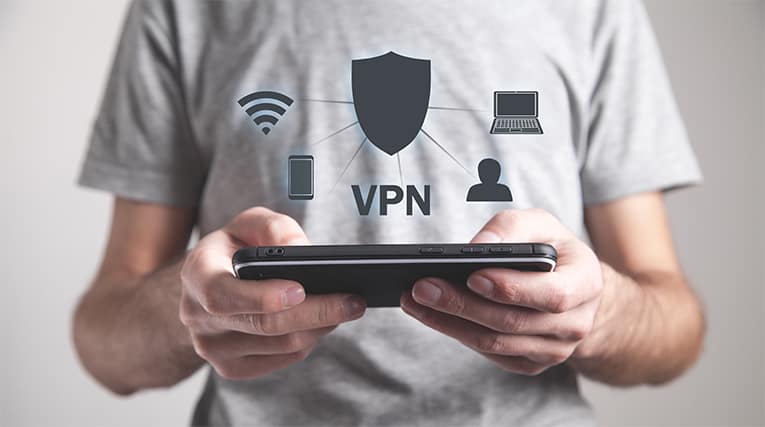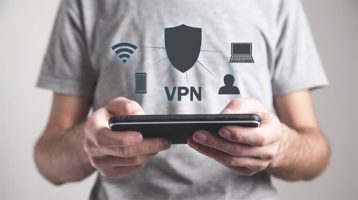 At the time of writing, PureVPN's subscription packages are priced at $10.95 for one month, $3.24 per month for a year and $1.99 per month for two years. PureVPN's strong side is that the company (also called PureVPN) is headquartered in Hong Kong, which is out of the jurisdiction of many international intelligence-sharing agreements involving government security agencies.
Like other VPNs, PureVPN is secured with enterprise-grade 256-bit encryption technology, WireGuard, OpenVPN UDP/TCP and IKEv2 protocols. DDoS and DNS protection are also embedded into PureVPN to maintain safety and data security. PureVPN works by encrypting users' online communications and unblocking georestricted content so that users can enjoy sites like Stake from anywhere worldwide. The PureVPN app is compatible with mobile devices like iOS and Android, computer operating systems such as Windows and macOS, as well as streaming devices and routers. There is also an extension available for Chrome and Firefox browsers.
---
Why do You Need a VPN to Play at Stake?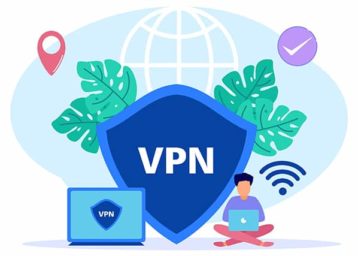 Typically, the conditions where a VPN is needed include when a user wants to remain anonymous and unblock restricted content such as games and movie streaming platforms. However, the latter is mostly the reason for the VPN demand.
Using a VPN is straightforward. First, the user has to download the VPN on a compatible device. Secondly, the user should select a preferred subscription plan and make a payment. Once the subscription is active, the VPN is ready to use. The user can select any server or pick a dedicated server from a country that is allowed to access the content the user wants to watch.
What are the Best VPN Locations for Stake?
Finding an answer to the question "where is stake.com legal" would give rise to the best VPN locations for Stake. Once a player can identify the countries where Stake is illegal, the user may decide which VPN server to join to access the content from a country that allows Stake. The best countries for VPN connections are often big on internet data privacy and freedom of speech and do not participate in international intelligence-sharing agreements like the "Five Eyes" and "14 Eyes" alliances.
Can I Play Stake on Mobile with a VPN?
Yes, Stake can be played on mobile with a VPN installed. Unfortunately, there is no app for iOS and Android users to install. Rather, a web app can be added as a shortcut to a browser or phone's home screen. This web app shortcut is only available on Stake's website.
Note:
With the web app shortcut in place, the VPN would first be connected before opening the web app shortcut.
How can I Withdraw from Stake Safely with a VPN?
To safely withdraw from Stake, the player should click on "wallet" and choose "withdraw." Select the payment method and input the corresponding cryptocurrency wallet address. Then, enter the amount to be withdrawn. Minimum amounts may apply depending on the cryptocurrency used for the withdrawal, but there is no maximum amount.
The safety feature of withdrawing is known as the "know your customer" process, which requires verifying the player's identity. This process helps establish that the account's real owner initiated the withdrawal.