Google knows a lot about users who take advantage of all the modern online products the company has to offer. Listing everything that Google knows about each other would take more than a while. But Google knows the devices a given user has used to sign in and surf the internet and also each and every video watched on platforms like YouTube (that Google owns). If there is a disease a given user has searched for on the internet, Google knows that regardless of the fact if the said user has the disease or not.
All of that information is stored in a place called Google Activity. For example, if a given user started using Google in 2006, each and everything searched from that point onwards is stored by Google. Clearing Google Search History is one way to get rid of all the information the company has. The process is more or less the same on desktop computers, Android and iOS. Specific steps may differ though. But Google knowing everything about a specific individual is not the only reason to delete Google Search History. Users who want better privacy on the internet should seriously consider clearing Google search history from time to time. For an even better experience, clearing browser history regularly, signing up for the Google auto-delete history feature, using a VPN and checking extensions carefully before installation, are just some of the effective steps.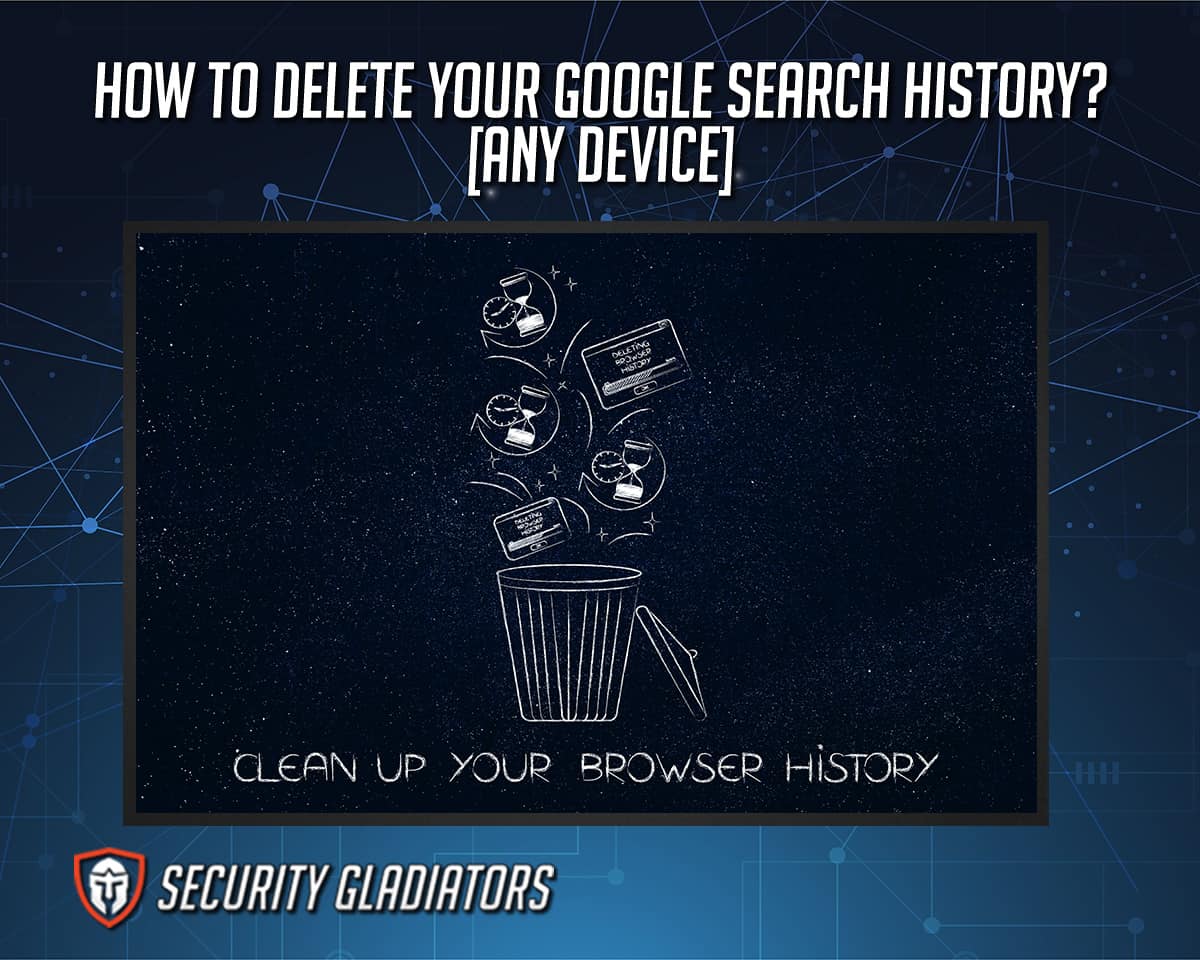 How to Delete Your Google Search History on a Computer
Deleting Google search history on a computer is not the same as deleting browser history. That's the main point to remember. Once Google search history is deleted, the user will see remarkably different search results when signed in. The steps to take to delete Google search history on a computer are given below:
For best results use the Google Chrome web browser. Go to myactivity.google.com/myactivity.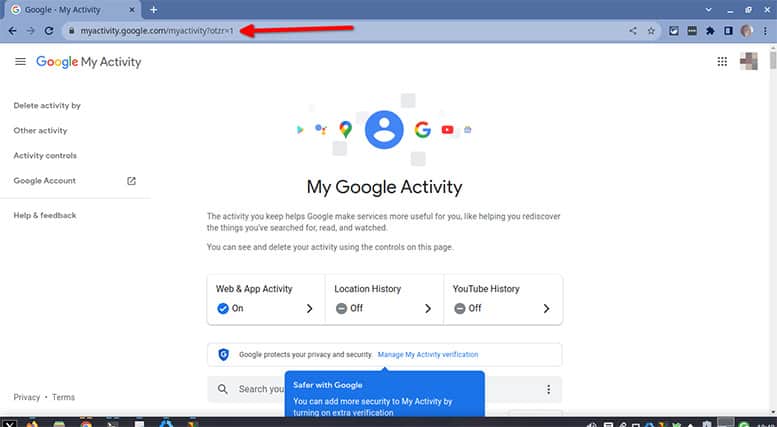 From the menu on the left-hand side of the screen, click the option that says "Delete Activity By."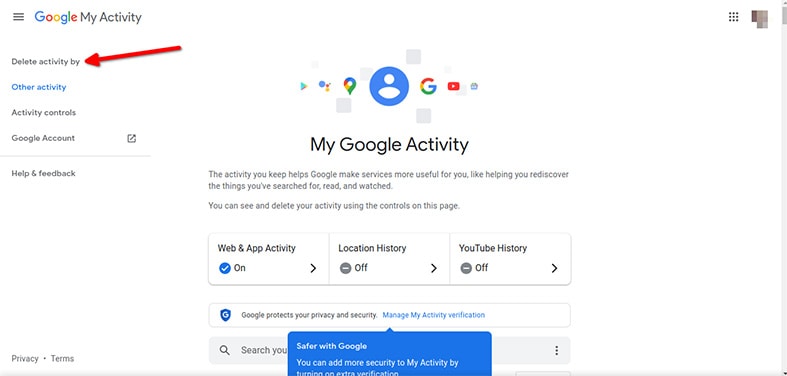 For best results, choose "All Time" from the next list of options. But choosing to delete search history from Google records for the last hour or last day can also bring good results.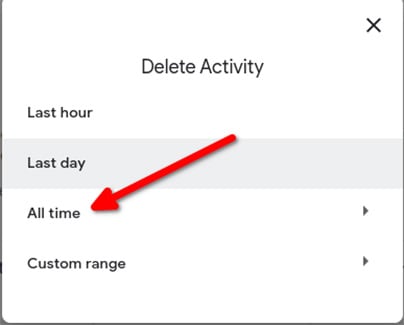 The next page should show a long list of Google apps and services where the user might have built up a history. The easiest option here is to choose "Select All."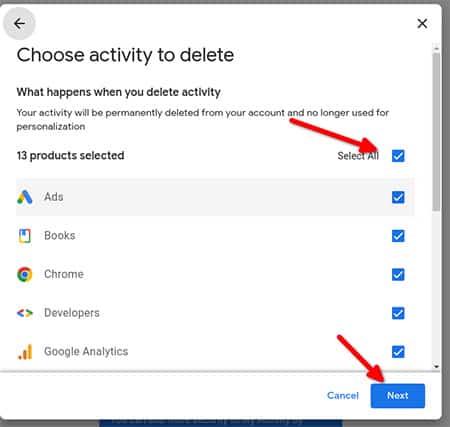 Click "Next."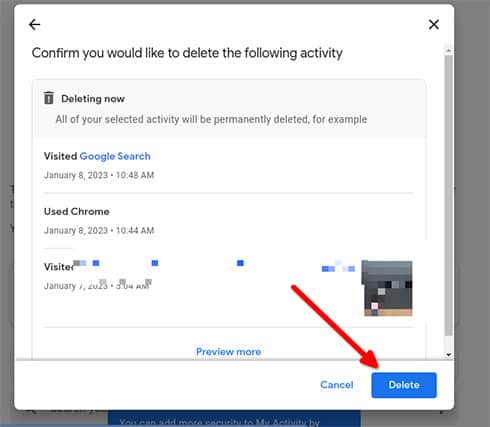 Confirm the choice by clicking the button "Delete."
The new screen should put up the text 'Deletion Complete.' Once that happens, click the "OK" button.
How to Delete Your Google Search History on an Android Device
Mobile devices are no different from desktop computers when talking about Google keeping a detailed search history profile on all users. The steps to take to delete Google Search history on an Android device are given below:
Just as before, use the Google Chrome web browser to first go to myaccount.google.com.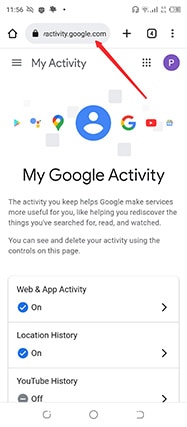 Sign in.
Choose the option that comes in the shape of a hamburger icon from the left-sided menu.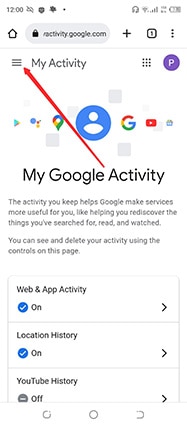 Find the option "Delete Activity By."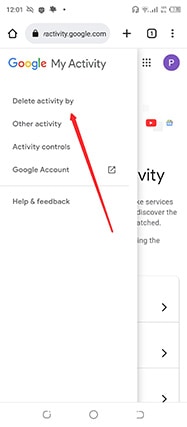 Click on "All Time."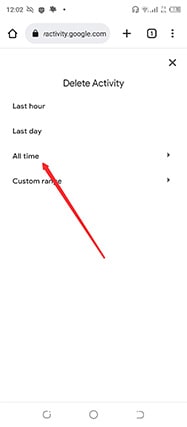 From the next screen choose "Select All."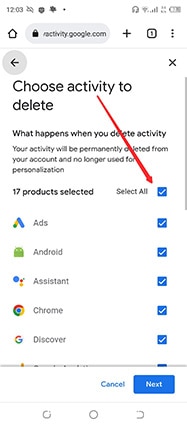 Then look at the bottom right corner of the screen for a blue button with the text "Next." Click the "Next" button.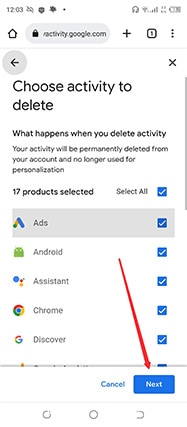 The new screen should show a "Delete" button. Click the "Delete" button to confirm the action. Keep in mind that doing so will delete all of the user's selected activities permanently. If required, users may review the data being deleted (which is conveniently shown on the same page).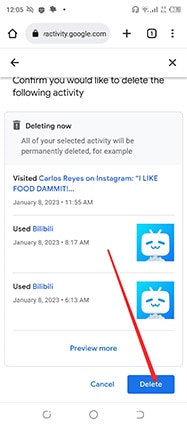 From the next page click the "Got it" button.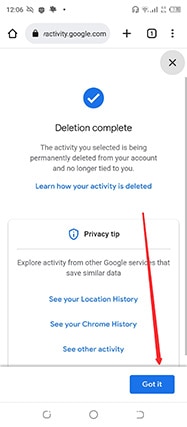 Then exit Chrome and restart the browser.
Note:
Users can always delete individual items instead of everything Google has stored on company servers. But choosing everything results in the best possible outcome for personal privacy.
How to Delete Your Google Search History on an iOS Device
The iOS device works in pretty much the same way as an Android device as far as clearing Google search history is concerned. The steps to take to delete Google Search History on an iOS device are given below:
Launch the Google Chrome Browser. Go to myactivity.google.com.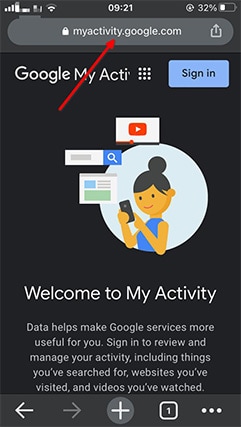 Click the menu button. And then select "Delete Activity By."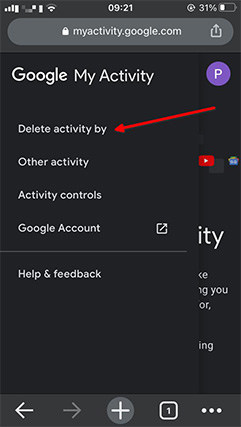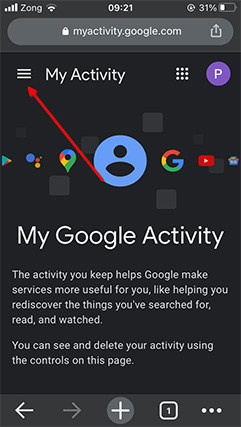 There should be some text visible that says "Delete Activity." Below that should be an option "All Time." Choose "All Time."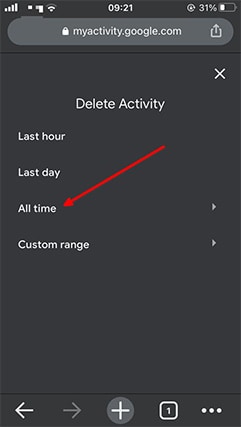 As always, from the next screen choose "Select All." But only choosing specific apps and services that may have too much personal data is also fine.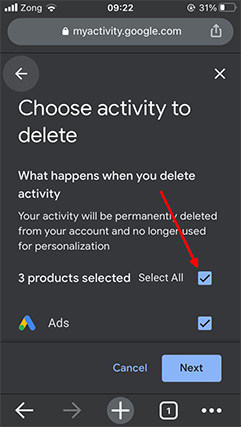 Click the "Next" button.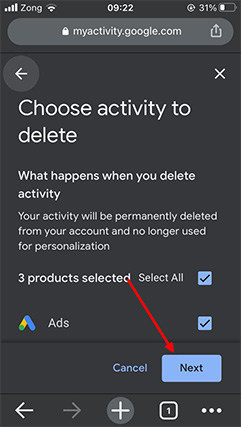 Then click the "Delete" button.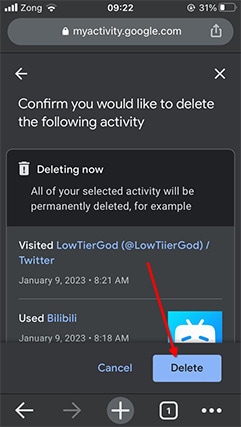 Why You Need To Delete Your Google Search History
The most important reason why users need to delete Google search history is privacy. As mentioned earlier, Google is the most popular search engine because of personalization. Whenever the user searches for something, Google personalizes the search results based on the preferences of the user. Google learns about those preferences by recording and analyzing the user's search activity. Users who like to search a ton of stuff about sports via ESPN will see ESPN results more often than other sporting websites. Deleting Google search history is the only way to stop Google from showing personalized results. As a result, the user can get out of the echo chamber where Google does not push information to users that might decrease interest or buying intent.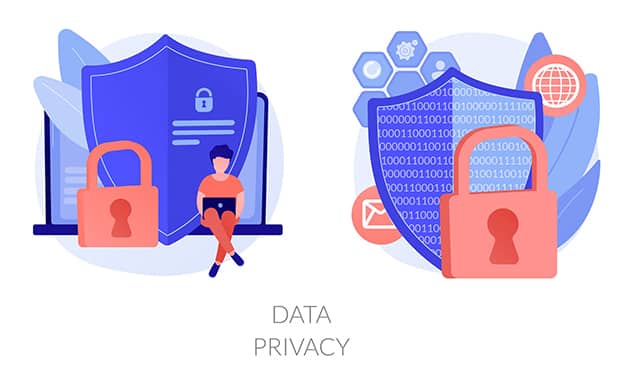 Another reason to clear Google Search history is to have a broader set of results on the next search. Clearing Google Search History means the user will see general results rather than results tailored to the user's interests. Steps such as deleting one's Google Search History enhance privacy in other ways as well. With Google Search History wiped clean, the user no longer has to worry about someone getting hold of the user's device and gleaning personal information from the myactivity page. The final benefit of deleting Google Search history is data security. In an event where Google systems are compromised, a user with no record on Google servers has nothing to worry about since hackers won't have access to any user data.
Or, the user can switch to a browser that automatically takes care of privacy issues. The best browsers for security and privacy are the ones that come with the best pre-configured privacy settings out of the box.
What Other Steps Can I Take For Better Privacy?
With so many instances of technology companies getting hacked in the past year alone, online users have the right to take as many steps as possible for better privacy. Limiting big technology companies from storing too much data and checking out alternative search engines represent two good steps for better privacy. But there are other simpler steps that don't involve the user limiting interactions with big technology companies and the accompanying products.
Delete Browser History
Trying to delete browser history can certainly come in handy when aiming for better privacy. Choosing what to delete from browser history is also possible as all major web browsers offer customization options. Most online users do not realize that browsing history is a legitimate security threat. Especially when browsing history is combined with cookies. Hackers can employ a variety of methods to compromise cookies. If there is browser history available as well then that's a double victory for any malicious hacker. Not to mention, not deleting browser history means that anyone with physical access to the machine will have access to all the websites the user has visited.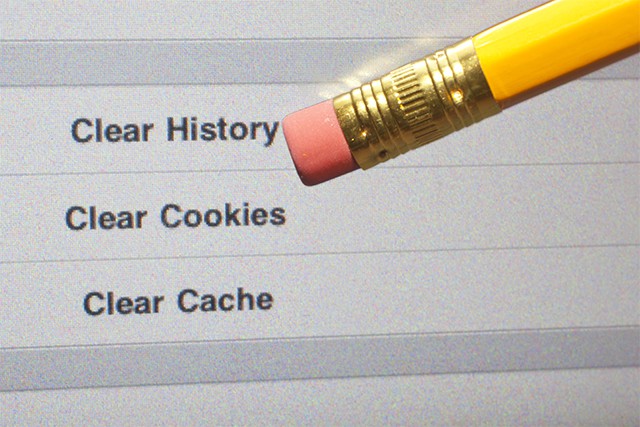 If the user has searched for sensitive content such as financial records, medical conditions, or relationship issues then all of that would be available to anyone with access to the user's browser history. Deleting browser history is the safest approach to keeping data safe and privacy preserved. Readers should keep in mind that browser history is different from Google search history. Google search history is all the data that Google has on the user. Google uses that information to serve the user relevant ads and search results. Browser history is just a journal that keeps track of where the user has been in the past.
Set up Auto-Delete to Delete Google Search History
All devices including Android and iOS keep information about the user's search history by default. However, the good part is that Google does offer tools to automate the process of deleting Google search history. That doesn't mean Google enables the auto-delete feature automatically. Fortunately, enabling the auto-delete function is rather straightforward. Most of the time, users can simply launch the Google Chrome browser, go to the official google.com website and click on the profile photo to get to the relevant menu.
This is important:
Keep in mind that setting up the auto-delete function will mean less relevant results. Moreover, the duration of the auto-delete feature will also affect how useful Google ads are. The most obvious benefit of enabling auto-delete is to stop companies that develop applications to have too much data on users. And the massive scale of data collection is not just limited to applications. Video games along with social media platforms and services also gather tons of data on each individual user to build profiles and sell products. Deleting Google search history but enabling the auto-delete feature makes sure privacy is enhanced by not allowing such entities to collect data at will.
Audit your Browser Extensions and Add-ons
Browser extensions have taken web browsers from tools to surf the internet safely to full-fledged operating systems. With the help of browser extensions and add-ons, users can pretty much perform any task online, and that too from within the browser. The two most popular web browsers are Google and Firefox, both of which use different terminologies when referring to the browser's function-enhancing snippets of code. So whether the term used is Chrome extensions or Firefox add-ons, both mean the same thing.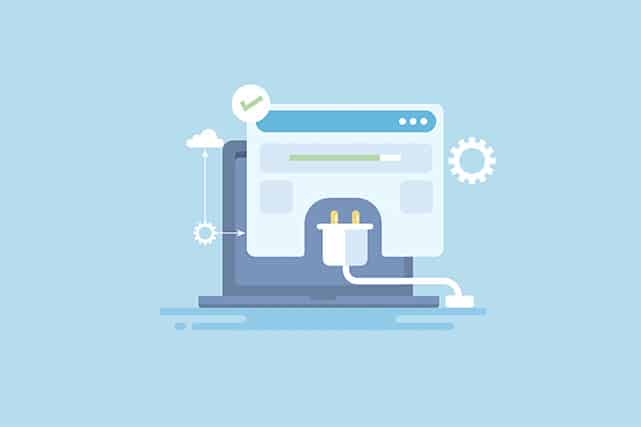 Of course, browser extensions are risky to use if proper care is not taken. After all, browser extensions are pieces of code that can potentially change how the browser behaves. Hence, auditing browser extensions and addons is very important to enhance privacy. Auditing browser extensions do not need to be hard either. Simply check the developer of the browser extension thoroughly before installing an extension. If the source of the extension cannot be verified then such a browser extension is probably a privacy risk. Also, give a thorough read to the description that comes with browser add-ons. Finally, look at the reviews for the said add-on or extension and the type of complaints mentioned in the reviews.
Use a VPN
Using a VPN to enhance privacy apart from deleting Google search history is a great option. The problem with just deleting Google search history is that Google may not record the user's activity but the internet service provider will. Along with every website, app, and marketing companies that track users from website to website. A VPN will essentially stop the ISP from logging the user's searches. Since all traffic leaving the user's device will first go to a VPN server and then to the final destination, all of the user's activity will be coming from a different IP address. IP address is the information item that ISPs use to connect a given activity with a user.
By changing that IP address and encrypting their traffic, users can simply hide from any surveillance programs that the ISP may be using to spy on customers.
VPNs also encrypt user data. That means even if the ISP was able to get hands on the user's data packets while in transit, nothing would be readable. But users have to make sure that the VPN is genuine. The best VPN for privacy usually offers a long money-back guarantee, AES 256-bit encryption, zero logs policy, and independent audit reports verifying all-important claims.