VPNs for Eero WiFi routers are VPN applications that are compatible with the Eero mesh WiFi router. In addition to providing unlimited VPN connectivity and faster internet speeds, VPNs for Eero WiFi routers offer a variety of unique features, strong security and affordable prices. The Eero WiFi Router is an alternative to WiFi extenders, gateways and traditional wireless routers. With the Eero router, users can create a strong WiFi network in offices or homes and connect multiple devices. Eero WiFi router is easy to set up. The router connects directly to an internet service provider's modem and acts as the gateway; additional Eero devices can be placed all over the home.
Eero replaces traditional WiFi routers with a system that provides greater connectivity, broader coverage and faster internet speeds using multiple access points. The company was founded in 2014 and is under the control of Amazon. Eero routers do not require a subscription service, monthly fees or additional costs, unlike conventional routers. The router is also safe to use, with WPA2 PSK AES security encryption included. The Eero VPN router also updates automatically, ensuring users have the best security possible.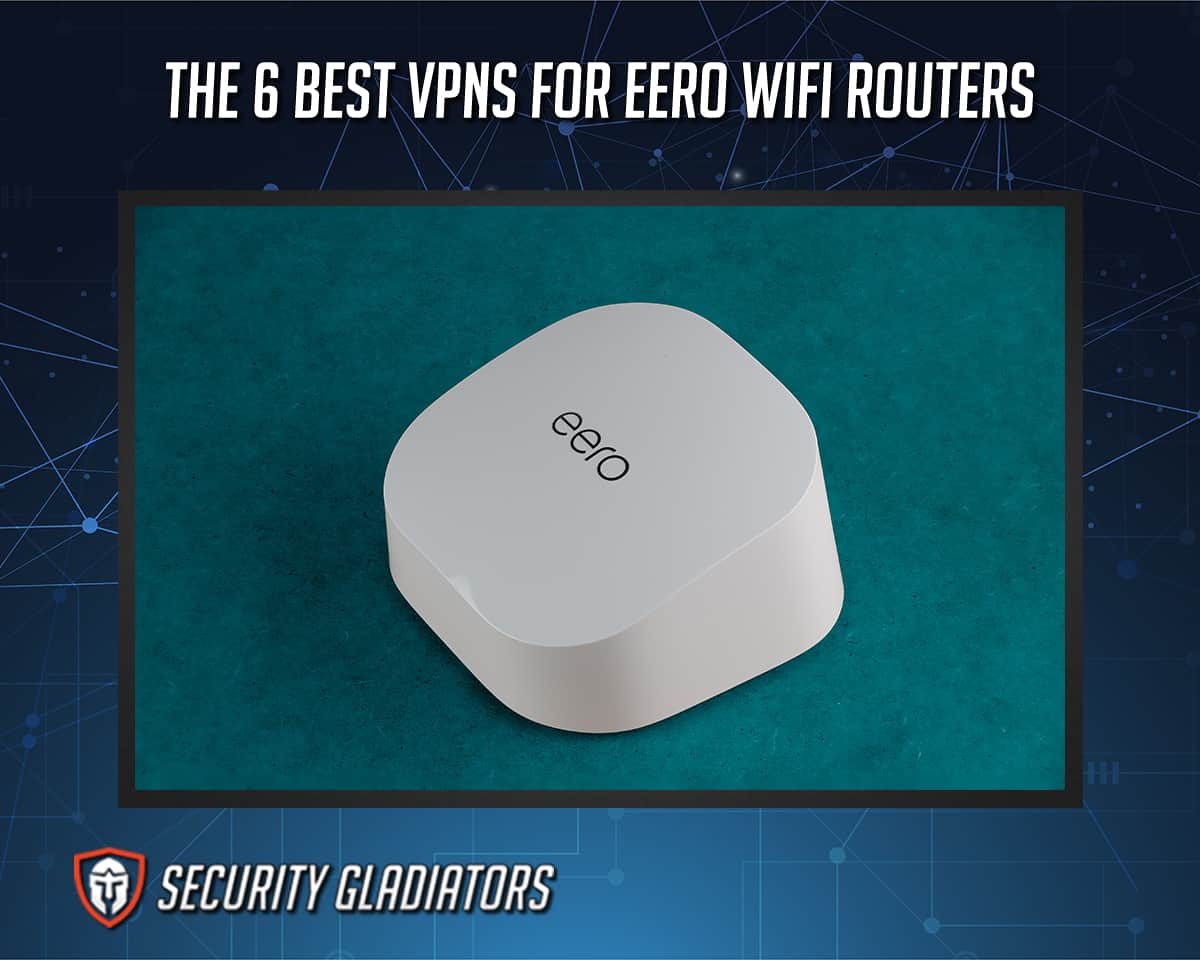 The six best VPNs for Eero WiFi routers in 2023 are listed below.
CyberGhost
VyprVPN
Private Internet Access
Surfshark
NordVPN
ExpressVPN
1. CyberGhost for Eero WiFi Routers
CyberGhost is a multi-platform VPN service that secures users' online privacy. CyberGhost is excellent for unblocking streaming services like Netflix, as well as torrenting, with over 7,900 servers in the VPN's network.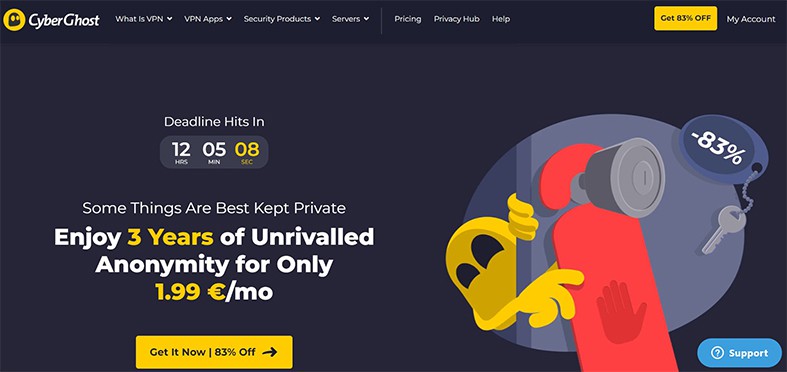 Using CyberGhost with Eero WiFi routers is advantageous because this VPN includes benefits like access to thousands of servers across 91 countries, easy access to Hulu, Amazon and other streaming services, the highest encryption (AES-256), split tunneling, WireGuard and a kill switch.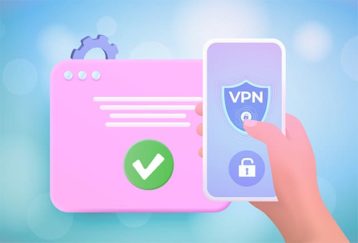 CyberGhost's disadvantages, on the other hand, include limited payment options, poor speed on certain servers and a history of privacy issues with Kape Technologies (formerly Crossrider), the parent company that bought the VPN in 2017. CyberGhost is also not ideal in countries with strict restrictions, such as China, or the United Arab Emirates, since ISPs can tell when an individual uses the VPN.
CyberGhost has unique features like incredible torrent speeds, a 45-day money-back guarantee, a no-logs policy and multi-platform support. The strong sides include protection against DNS and IP leaks, DNS privacy, simultaneous connections, and strong protocols like OpenVPN and WireGuard.
Security Gladiator's full CyberGhost review shows that the VPN has the best security with strong protocols and AES-256 encryption. CyberGhost VPN also has a kill switch, perfect forward secrecy and a split tunneling feature for added security.
CyberGhost's subscription prices include a monthly package for $12.99, a one-year plan for $4.29 per month, a two-year package for $3.25 per month and a three-year option for $2.29 per month. A 45-day money-back guarantee applies to all plans except the monthly option, which has a 14-day refund period.
| | | | | |
| --- | --- | --- | --- | --- |
| Term | One Month Plan | One Year Plan | Two Year Plan | Three Year Plan |
| Cost | $12.99 | $4.29 / month | $3.25 / month | $2.29 / month |
CyberGhost works by passing users' traffic through an encryption tunnel, which prevents the traffic from being intercepted. In addition, CyberGhost can mask a user's IP address, meaning a website cannot track the user's activity.
2. VyprVPN for Eero WiFi Routers
VyprVPN is a VPN for Eero WiFi Routers that makes browsing the internet and using streaming services simple, fast and secure. In addition to safeguarding users' online data against hackers, the VPN is used to stop ISP throttling and data sniffing by third parties.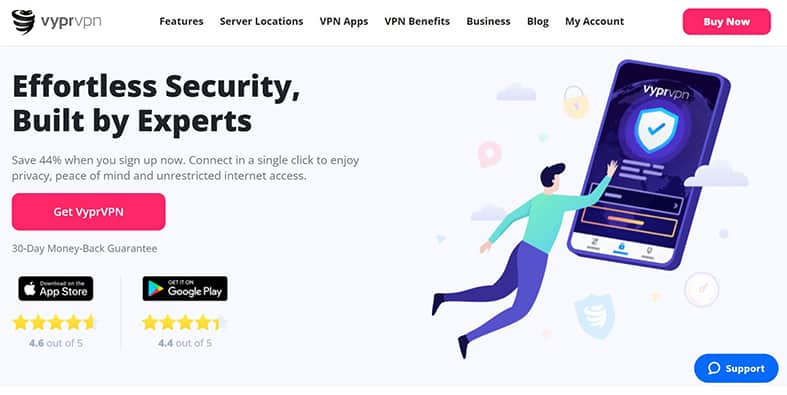 The benefits of VyprVPN include a no-logging policy, access to major streaming sites, a protocol called "Chameleon" to get around VPN blocking and 24/7 customer support. However, the cons include kill switch issues on the Windows app and slow speeds and connection times. Another drawback is the limited number of servers available compared to other VPNs since VyprVPN only has 700 server connections across 70 locations. Still, users have 300,000-plus IP addresses to choose from.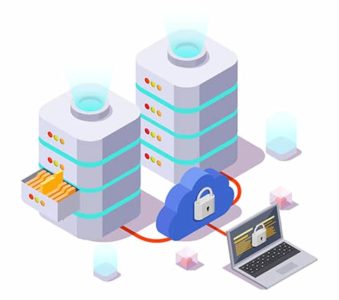 The VyprVPN review shows all of the unique features such as VyprDNS, NAT (Network Address) firewall and Chameleon protocols. VyprVPN also comes with a kill switch and several protocol selections such as WireGuard and supports up to 30 simultaneous connections. But VyprVPN's strongest feature is the ability to secure an individual's privacy online, even in the most oppressive countries.
VyprVPN security protocols protect users' internet connection from government surveillance systems, hackers and third-party data fishing apps. In addition, the VPN prevents DNS leaks and has multiple protocols like OpenVPN, which is fast and secure, and IKEv2, which works best on mobile.
There are currently two pricing options available on VyprVPN. First is the 12-month plan, which costs $8.33 per month or $100 annually, then there's the monthly plan, which costs $15 per month. Both plans come with a 30-day money-back guarantee.
| | | |
| --- | --- | --- |
| Term | One Year Plan | One Month Plan |
| Cost | $8.33 / month | $15 |
VyprVPN is owned and operated by Golden Frog, GmbH, a company located in Switzerland, which is great for VPN users since the country has privacy-friendly data laws.
VyprVPN uses a shared IP system, meaning every user on a particular server uses the same IP address. Using the NAT firewall, VyprVPN can stop unwanted data packets or requests from accessing a user's system.
3. Private Internet Access for Eero WiFi Routers
Private Internet Access (PIA) is an open-source VPN that delivers instant data protection and quality server infrastructure to multiple devices simultaneously. Private Internet Access is excellent for streaming and securing public WiFi networks. In addition, PIA's Boxcryptor lets users encrypt sensitive files and folders in any cloud storage service, such as Google Drive, One Drive or Dropbox.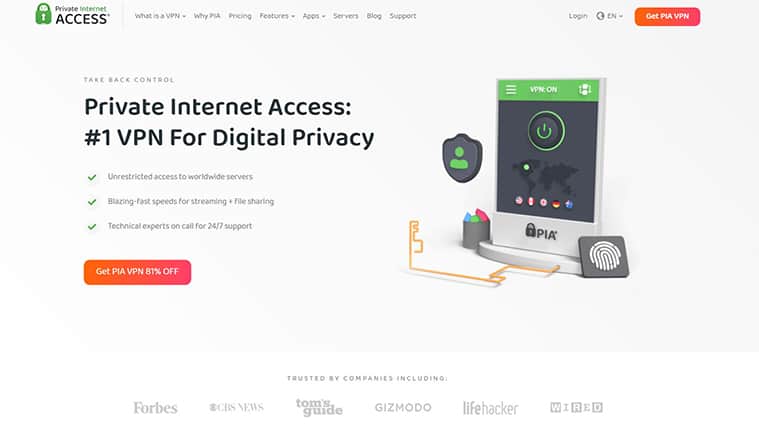 PIA has several advantages: access to optimized streaming servers, excellent customer support, a 30-day money-back guarantee, over 20,000 servers in 80 countries, unlimited bandwidth, up to 10 simultaneous connections and ultra-fast browsing speeds. However, a major drawback is the headquarters location. PIA's headquarters is in the United States (Denver, Colorado), a member state of several intelligence-sharing agreements with international law enforcement authorities. This can be a disadvantage since the U.S. government can demand access to users' data for whatever reason.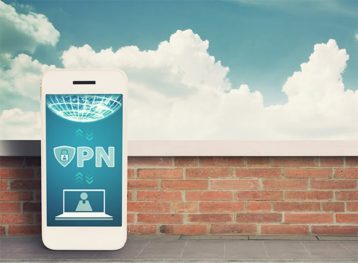 As Security Gladiators covered in the full Private Internet Access review, this VPN offers a range of features like a secure kill switch, built-in ad blocking, torrent support, an easy-to-use interface and the ability to unblock streaming services. The strong side includes a strict no-log policy, strong encryption protocols, a user-friendly split tunneling feature and access to thousands of servers spread across 80 countries.
PIA uses OpenVPN and WireGuard encryption protocols. Private Internet Access has leak protection enabled by default and comes with an antivirus feature to protect users from malware and other threats while surfing the internet. The OpenVPN encryption is set to AES-128, but users can choose the more secure AES-256 cipher. There are two additional handshake ciphers for added security, RSA-2048 and RSA-2096.
PIA users have three price options: The monthly plan goes for $11.99, the six-month plan costs $45 total or $7.50 per month, and finally, the two-year plan is $56.94 or $2.19 per month. All options come with a 30-day money-back guarantee.
| | | | |
| --- | --- | --- | --- |
| Term | One Month Plan | Six Month Plan | Two Year Plan |
| Cost | $11.99 | $7.50 / month | $2.19 / month |
PIA is owned by Kape Technologies, which purchased the VPN in November 2019.
The VPN establishes a secure connection between the device and the VPN's servers. PIA then encrypts the connection to keep any browsing activity away from ISPs and other third parties.
4. Surfshark for Eero WiFi Routers
Surfshark is an affordable Eero VPN and one of the only VPNs to boast of an unlimited connections feature. Surfshark's interface is easy to understand, and users can easily connect to the fastest servers available, making the VPN ideal for first-time users.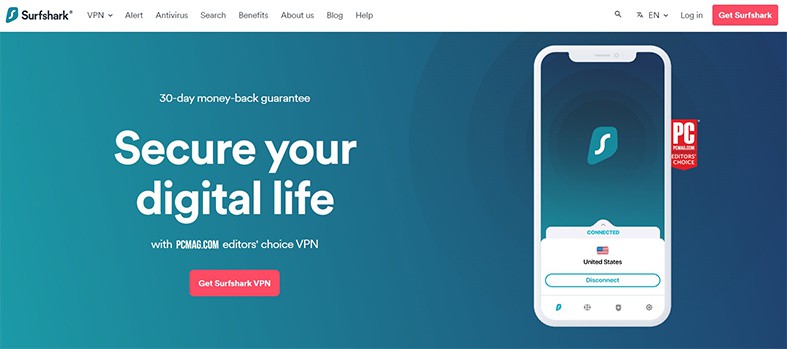 When paired with Eero routers, Surfshark helps individuals remain anonymous while surfing the internet and unlocks exclusive streaming libraries that are georestricted in some countries, such as U.S. Netflix, Hulu and BBC iPlayer. In addition, users can stream content privately, and with a single Surfshark account, everyone in a household can use the VPN.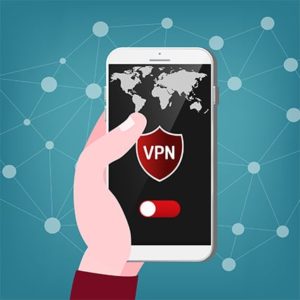 With Surfshark VPN, users can change any internet-compatible device's IP address and location. As a result, Surfshark is perfect for bypassing censorship and content blocks, accessing streaming services internationally and browsing securely on public networks. Unfortunately, Surfshark limits torrenting to a few servers with poor speeds, which is a significant disadvantage. So while Surfshark supports torrenting, any torrent download has to be done slowly.
As Security Gladiators' dedicated Surfshark review notes, the VPN's anti-malware, ad blocker and multi-device support are some of the more unique features. Surfshark also boasts of unlimited connections, meaning there's no cap to the number of devices that can connect to the VPN. Surfshark's strong sides include a no-log policy to ensure that users' activity remains private. The VPN doesn't save traffic logs and deletes login details after 15 minutes.
Several noteworthy security features on Surfshark include a no-logging policy, AES-256 encryption, OpenVPN, IKEv2/IPSEC and WireGuard protocols, an automatic kill switch, a no-border mode for users in restrictive regions and perfect forward secrecy, which constantly changes the encryption keys.
Surfshark's monthly plan comes in at $12.95, while the yearly gives a 69% discount at $3.99 per month, billed at $59.76. The two-year option gives an 81% discount at $2.49 per month, billed at $59.76.
| | | | |
| --- | --- | --- | --- |
| Term | One Month Plan | One Year Plan | Two Year Plan |
| Cost | $12.95 | $3.99 / month | $2.49 / month |
Surfshark VPN was founded in 2018 and is owned by Surfshark Ltd. The company is located in the British Virgin Islands, meaning Surfshark doesn't fall under the jurisdiction of the 14 Eyes Alliance, an intelligence-sharing agreement involving multiple countries worldwide.
Surfshark reroutes a device's internet connection from the internet service provider to any virtual private server the user chooses, which masks the user's IP address.
5. NordVPN for Eero WiFi Routers
NordVPN has been protecting users' data since coming online in 2012. The VPN is known for having incredible security, good performance, fast speeds and affordable pricing options. In addition to routers, NordVPN is available on Android, iOS, macOS and Windows devices and as a browser extension. NordVPN is used to bypass geo-restrictions, mask IP addresses, unlock streaming content and protect users' privacy online.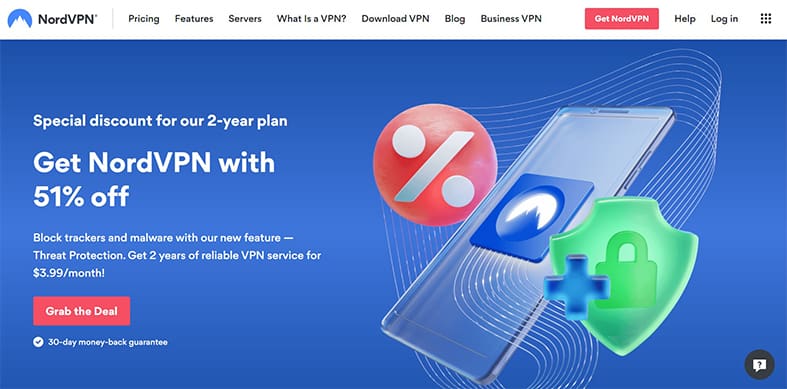 NordVPN has several advantages, such as the headquarters location in Panama, a consumer privacy-friendly country. The VPN also has a kill switch to prevent data leaks, encryption that masks users' IP addresses, fast and stable internet speeds across several server locations, access to more than 5,400 servers in 60 countries, and access to Netflix and other streaming libraries. The full advantages are detailed in a separate NordVPN review.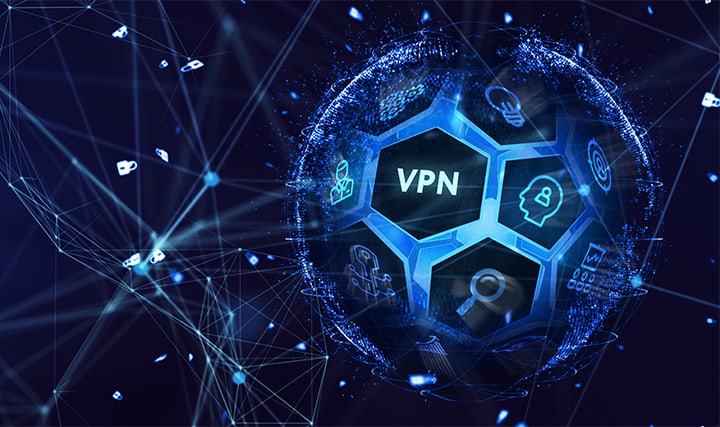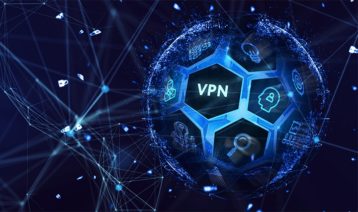 The biggest disadvantage is the breach NordVPN suffered in 2018, which can hinder the trust users have in the VPN. NordVPN also limits torrenting speeds on some servers, and the OpenVPN protocol is not user-friendly.
NordVPN has several unique features like multi-factor authentication, double protection, a dark web monitor service, private DNS and threat protection. The strong sides include lighting speed, six simultaneous device connections and intuitive apps on various platforms.
NordVPN's security features include state-of-the-art encryption, a no-logs policy, double VPN, streaming support, onion over VPN, DNS leak protection and an automated kill switch. Nord uses an AES-256 cipher encryption algorithm with a 4096-bit DH key for protecting sensitive data.
There are three price tiers available from NordVPN: The two-year plan costs $3.99 per month, while the one-year plan is valued at $4.99 per month and the monthly plan costs $11.99. NordVPN is owned by Nord Security.
| | | | |
| --- | --- | --- | --- |
| Term | Two Year Month Plan | One Year Month Plan | One Month Plan |
| Cost | $3.99 / month | $4.99 / month | $11.99 |
NordVPN keeps users' internet activity secure and private by hiding IP addresses and rerouting the internet traffic through encrypted servers.
6. ExpressVPN for Eero WiFi Routers
ExpressVPN is a quality VPN that delivers in every possible area. ExpressVPN supports WiFi routers and has a vast network and a zero-log policy, supports torrenting, unblocks Netflix, and is fast and secure.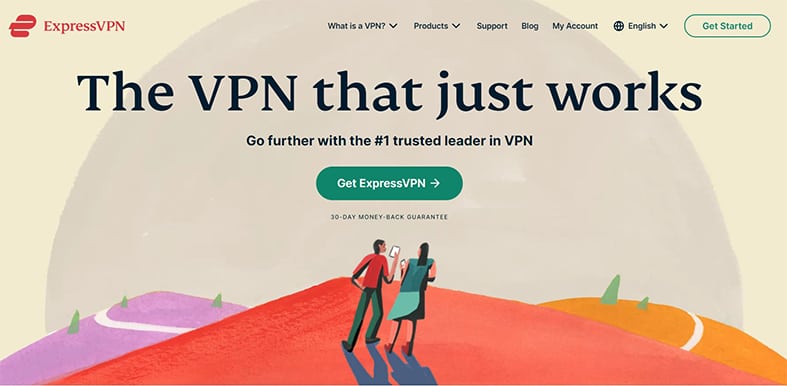 Speed is a major advantage of ExpressVPN as several high-speed servers are available. Other benefits include network locks to kill the internet connection if the VPN connection ever drops, military-grade encryption and different tunneling protocols users can choose. ExpressVPN also supports payment via cryptocurrencies and gives users in any country/region access to any Netflix content. However, a major drawback is ExpressVPN's high prices compared to competitors.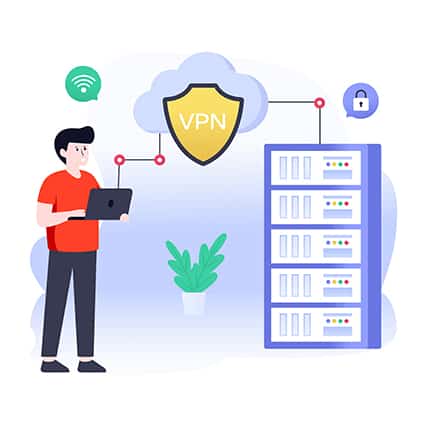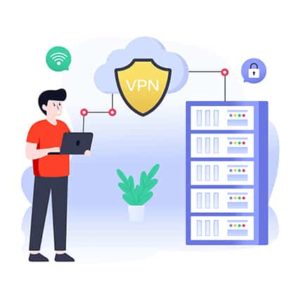 The full ExpressVPN review highlights many strong sides and unique features like unlimited server switches, split tunneling, private DNS, usability, a special protocol called "Lightway," and protection when using public WiFi connections.
ExpressVPN boasts top-notch security, with industry-standard AES-256 encryption to provide anonymity and protect data, a zero/no-logs policy, perfect forward secrecy, an advanced kill switch, and the most secure protocols such as Lightway, OpenVPN, IKEv2 and L2TP/IPSec.
ExpressVPN's monthly plan costs $12.95 per month, the six-month plan costs $9.99 per month and the yearly plan costs $8.32 per month. All plans come with a 30-day money-back guarantee.
| | | | |
| --- | --- | --- | --- |
| Term | One Month Plan | Six Month Plan | One Year Plan |
| Cost | $12.95 | $9.99 / month | $8.32 / month |
The latest information states that Kape Technologies own ExpressVPN. This is problematic because Kape Technologies is based in the U.K., and as a founding member of the 14 Eyes Alliance, the United Kingdom can demand ExpressVPN to provide user data. Kape Technologies has a history of building adware, so there are concerns that the company can share user data with ad companies.
Users connected to the ExpressVPN network enjoy military-grade technology that prevents websites, third parties, WiFi operators and internet service providers from monitoring a user's activity.
Note:
Prices may differ from the ones shown as new plans and deals are launched on a regular basis. Please be sure to check the most current price on the official website.
How to Set Up a VPN Passthrough with Eero?
A
VPN passthrough is a router feature that lets devices connected to the router establish an outbound VPN connection (a connection from the home to the internet). Some routers support VPN connections, and others do not. The Eero WiFi Router supports VPN passthrough.
The steps for installing VPN passthrough connections are given below.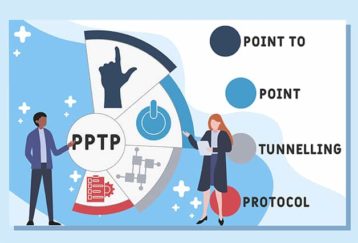 Connect to the internet using a local area network.
Launch Google Chrome or any preferred browser.
Enter the Eero WiFi Router IP address into the browser's URL bar.
Enter the administration username and password.
Click on the "security" option to access the security configuration page.
Select the "Enable PPTP (point-to-point tunneling protocol)" option.
Access the administrator program's port forwarding options and activate port forwarding for PPTP on port 1723.
Click on the Windows or CMD key, search "VPN" and select settings.
Choose "Create a virtual private network (VPN) connection."
Fill out the VPN information in the designated boxes, check the "remember my credentials" box and then click "create."
From the "Networks" pane, select the VPN and click "Connect."
Note:
If done correctly, a username and password prompt should pop up.
The IP address for most routers is usually 192.168.0.1 or 192.168.1.1. Check the owner's manual for the correct IP address if that doesn't work. PPTP is the standard protocol for VPN connections. When activating the port forwarding options, remember that different routers have different processes to enable this feature, so consult the manual for the exact steps.
Why do You Need an Eero Router VPN?
With a VPN passthrough, systems behind a router's firewall can gain access to a remote network. An Eero router VPN allows the VPN traffic to bypass the router's firewall. The major reason to use a VPN with an Eero router is to protect all the devices on the router's network. A router connection only counts as one device on the VPN, so even if multiple devices are connected to the router, the VPN only sees one device. This is why VPNs for routers are necessary.
How to Protect Multiple Devices with Eero Routers
Eero Routers can connect as many as 30 devices, but users will need to set up another routing device with a VPN since the Eero router does not have active VPN management. If the router doesn't have a built-in VPN, then a VPN passthrough is the next best option.
The steps for protecting multiple devices with Eero routers are given below.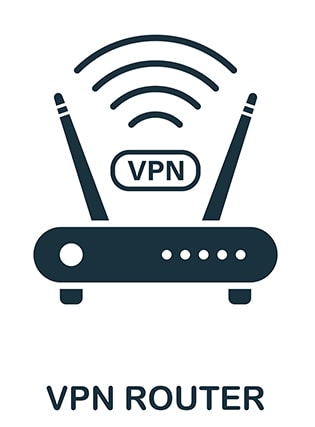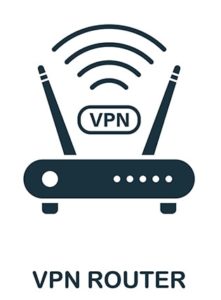 Set up a VPN on the router.
Log in to the router using Google Chrome or another browser.
Configure the router to redirect traffic to a VPN server using the steps highlighted above.
After configuring the router, test to see if the VPN connection is working properly.
Connecting a VPN to a single device only protects that device, but by setting up a VPN on the router, the VPN will also protect every device connected to the router. This has the added advantage of bypassing the device limitations set by VPN providers.
Can You Use a VPN with Eero Pro 6?
The Eero website says that Eero 6 supports VPN passthrough connections. This means that another routing device with VPN can be used together with Eero, as Eero will be able to pass the VPN traffic.